PROJECT OVERVIEW
Project name: Pho Dong Village project
Location: Dong Van Cong Street, Cat Lai Residential Area, District 2, Ho Chi Minh City
Investor: Saigon Construction Joint Stock Company – SCC
Total area: 41 ha
Structure: of 546 apartment units, designed with 1 ground and 2 floors
Type of investment and development: Town houses, garden town villas, duplex villas / single houses, high-class apartments

LOCATION
Pho Dong Village is a high-class project developed with all the enthusiasm and financial potential of SCC, located on a land area of 41 hectares in Cat Lai Ward, District 2, at the intersection of Dong Van Cong Street and East Ring Road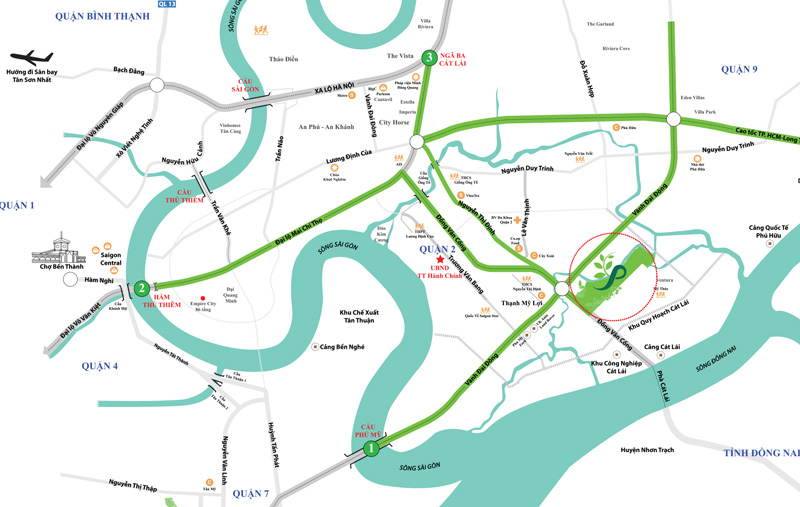 With such a convenient location, the project is highly appreciated by the experts in terms of potential, because it is located in the Central area of the East of Saigon – Where in the future will become an economic financial center bustling equivalent to the current District 1.
– Adjacent to Ring Road 2, toward HCMC – Long Thanh – Dau Giay Highway: Northeast
– Adjacent to District 2 People's Committee, towards Thu Thiem New Urban Area: North West
– Adjacent to Phu My Hung bridge, heading to Phu My Hung: Southwest
– Contiguous planning Cat Lai Residential Area: Southeast.
UTILITIES
With the high-class scale, Pho Dong Village urban area promises to be an ideal settlement for the upper class of Saigon. Therefore, in addition to the premises, SCC will definitely give residents the project an outstanding living space, with a green area and a high-class internal utility system.
– 24 internal roads of 20m wide: Built synchronously with wide sidewalks, two sides of the road are planted with red flamboyant and many other woody flowers (17 kinds of flowers), a place for residents to walk and relax under the poetic landscape. Corresponding to each flower is a road name. This is the only project in Vietnam to implement a color concrete road.
– PhoDong Club: The place to welcome visitors to the project, bringing together the most advanced facilities including swimming pools, yoga, gym, tennis, sauna, convenience stores, restaurants and cafés (PhoDong Café Terraria) , entertainment club for children (indoor, outdoor – PhoDong Kid Club) …
– The school is inter-level, full of grades from preschool to high school.
– A romantic riverside park 1.6km long.
– International Nursing Hospital (first appeared in Vietnam), especially suitable for the elderly with high-class health care services.
– Luxury marina 5-star standard.
– Security system completed 24/7.
With a convenient transportation location and a key area in urbanization development, Pho Dong Village Project is surrounded by a wide range of attractive, diverse suburban facilities. With some outstanding utilities such as:
– 1km away from Thanh My Loi market, 1.2km to Cat Lai
– 2.5km to District 2 General Hospital, 8.5km to FV Hospital, Tam Duc Heart Institute
– 3km to public school, 2.5km to Saigon Star school, 4km to ACG school, 6km to AIS and 9km to SIU.
– 3km from Vinatex supermarket and 6km to Big C, Metro, Parkson Q2 supermarket
– 9km from Cresent Mall Q7 and 11km to Bitexco and Vincom Q1
– 4km to Phu My Bridge Road, 7km to Saigon Bridge and 8km to Thu Thiem Tunnel …
GROUND
Pho Dong Village is a project of a poetic urban area along the River in District 2. Taking advantage of the existing natural landscape, SCC and its partners have decided to develop the project under the Green City model, which looks The beautiful crimson of flamboyant is the key.
On the main roads connecting the villas and townhouses in the project, flamboyant will be planted on both sides of the road. The green of the leaves and the bright red color of flamboyant will turn Pho Dong Village into a romantic city, quite different from the neighboring urban areas. On these beautiful roads, residents can walk and see nature.
In addition to flamboyant, 24 main internal roads of the project are also planted with 17 different types of woody flowers, forming a "miniature Dalat in the heart of Saigon". Living in Pho Dong Village, residents will feel like living in the city of thousands of flowers blazing spring.